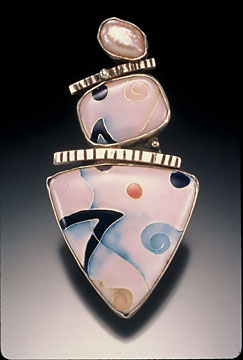 Abstract cloisonne pin , sterling silver.
Until I found enamels I always considered myself a painter. With enamels magical things can happen that are wearable and colorful. I use natural images for much of my work. Flowers make very rich images. Faces, both abstract and more realistic, are also part of my work. Sometimes the faces and the coffee cup designs are more whimsical.
My interest in ethnic and folk art may also play a role in the look of my work.